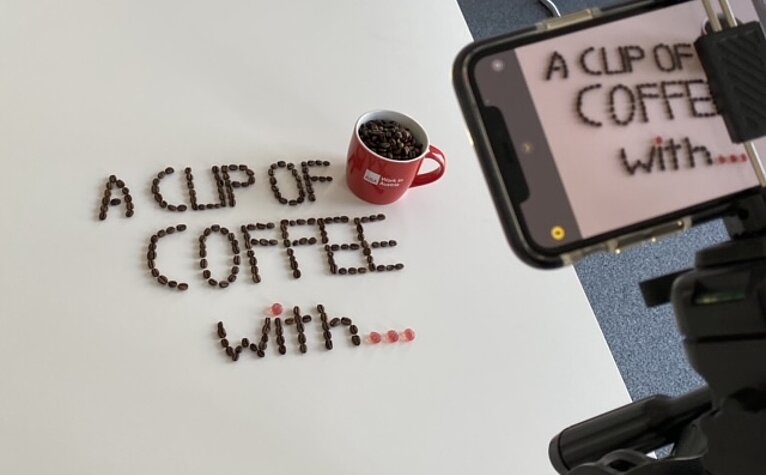 A cup of coffee with...
Working in Austria
A Cup of Coffee with... Lars Krumtünger
Lars Krumtünger is Head of Finance at Smartbytes GmbH. The company develops, produces and commercialises IT products. Skilled workers from India, Montenegro and Russia work in an international team.
How many international employees are working in your company? 

At present 9 international employees are working here, of which 3 come from outside of the EU.
In which areas do they work? 

They are involved in a broad range of activities. The 3 employees who are not EU nationals all work as programmers.
What are the advantages of diversity in your company? Are there also disadvantages? 

The labour market in Austria is highly competitive, especially for technical jobs. It is extremely helpful to also be able to access highly qualified employees from abroad, in particular for IT tasks.

In addition, we have seen that a very internationalised team frequently helps us to respond to problems even more dynamically and to consider important issues from different perspectives. Furthermore, the diverse team ensures that we as a company automatically evolve in an internationally oriented manner. When the team consisting of employees with different backgrounds meets and a considerable amount of English is spoken, an open and international mindset automatically emerges. There are no disadvantages.
Do skilled workers from abroad have to speak German? 

No. We strive to communicate exclusively in English in our working environment, even if this is not possible in every situation.
What skills do employees from abroad have in addition to their professional expertise? 

Time and again It is interesting to repeatedly hear stories from Indian or Russian employees about their native countries, to give one example. On balance, these completely different backgrounds, mentalities and experiences comprise a huge asset for the entire team.
How did it happen that you hired skilled workers from abroad? 

A skilled worker already worked for us as a freelancer. The work was always of an extremely high quality and the "personal fit" was great. For this reason, we offered this skilled worker the opportunity to move to Vienna.

Apart from this, all other international employees studied in Vienna, and for the most part ended up in our company through networking with our existing staff.
How did you find out about the services provided by ABA – Work in Austria? 

Through our research within the context of an application on behalf of a skilled worker from abroad for a Red-White-Red – Card.
How did ABA – Work in Austria assist you in searching for and recruiting a suitable skilled worker? 

ABA – Work in Austria provided extensive assistance in correctly preparing all necessary forms for the Red-White-Red – Card. One has to keep so many things in mind. In this case the support provided by ABA helped us not to forget anything and to make sure we correctly complied with the stipulated procedures in every respect, down to the last detail.
How long have you looked for a suitable employee? 

One to two months in most cases. As a startup, it is of crucial importance to fill vacant positions as quickly as possible.
Which areas proved to be the most challenging in attracting suitable employees? 

Primarily in technically demanding areas. The job market in Austria is extremely competitive, especially for complex programming work.
How do you support skilled workers from abroad when they begin work for your company in Austria? 

We clarify all possible administrative requirements for the new employee, for example in looking for an apartment, making an appointment with the registration office or opening up a bank account. In addition, we show the city to him or her and explain all the important things about Vienna and Austria so that commuting does not turn out to be a problem, and the new employee does not end up standing in front of a closed supermarket on a Sunday.  
Why should skilled workers choose to work for your company? 

We are an extremely open team making the onboarding for new skilled workers as easy as possible. We also try hard to make sure that everything goes smoothly outside of work. The new employee should not only do a specific job but also feel at home in Austria. This is the only way to stay motivated.

Apart from this, we offer all employees a great deal of latitude and professional development opportunities. Employees are not only with us to contribute to the company's growth but should grow together with the company. The flat hierarchy enables everyone to present views and ideas regardless of how long he or she has been with the company.
What structural changes would make it easier for you to find suitable employees for your company? 

During people's studies, we already see how many ambitious EU nationals are attracted to Austria and also decide to stay here permanently. Being able to lure skilled workers from the entire EU enormously expands the pool of highly qualified skilled workers. Moreover, this represents a clear win-win situation for both the employees and the companies.

Unfortunately, there are various obstacles which applicants and firms must overcome for skilled workers outside of the EU. ABA provided extensive help in this regard as well. a great deal of help. Nevertheless, a lot of time and administrative work are needed. The points system of the Red-White-Red – Card is definitely a good approach. Nevertheless, it would make a lot of things easier if very highly qualified skilled workers in shortage occupations could be given the go-ahead to work in Austria more quickly and in a less complicated manner. In my experience, it would be an interesting option to allow skilled workers to enter Austria and already work in the country on a trial basis from the time they submit their application for a Red-White-Red – Card until a final decision is made concerning their application.
What experiences have you already had in recruiting skilled workers from abroad? 

We never explicitly focused on foreign skilled workers, but always tried to ideally fill vacant positions. It has always proven to be an advantage to take the additional steps required to enable skilled employees from abroad to work for us in Austria. Every single day we benefit from the fact that these positions have been ideally filled and our team has become more internationalised and diverse.
What potential exists when you think about an international team in your company? Have you encountered any disadvantages? 

The direct advantages definitely include a broad range of perspectives and experiences as well as getting accustomed to an international and diverse environment in daily working life. This has raised the overall awareness of people with different backgrounds, and it is becoming increasingly natural to speak English at work all the time.

We have not perceived any disadvantages in the company up until now. However, it is important to note that we still have to frequently resort to speaking German in our direct contact with customers and partners. This can be an obstacle in some situations.
Has COVID-19 changed anything concerning your need for skilled, well-trained workers? 

The coronavirus has not directly impacted our need for skilled workers. However, it has become more difficult to get skilled workers from abroad to come to Austria. At present, the situation with the pandemic still means that processing times for official documents can be extremely long.
How do you like your coffee? 

Without milk and sugar. A good coffee does not need anything else. :-)
Back to main navigation