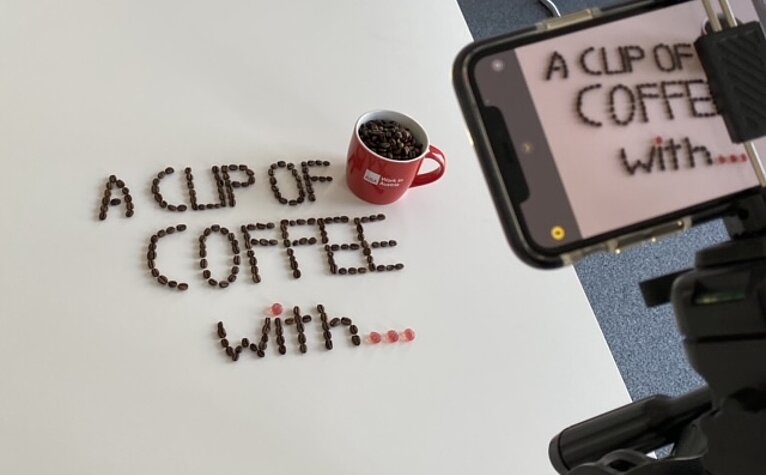 A cup of coffee with...
Working in Austria
A Cup of Coffee with... Erwin Kruschitz
Erwin Kruschitz is on the board of anapur AG, a company that provides technology management services.
The company employs specialists from India and Eastern Europe who work mainly in quality assurance, IT security, risk analysis, maintenance and repair and engineering.
How many international employees work in your company? 

It depends on what we want to understand by international. If we were to base the company in Germany, we would have about 75% non-German employees. The question is probably aimed at non-European employees. We are currently at 10%. The first employee anapur hired 20 years ago came from India.
In which areas do they work? 

These employees work in the pharmaceutical, biotechnology and chemical industries and are trained as mechanical and electrical engineers. They help make the production of active pharmaceutical ingredients safe and efficient. This is an issue that the public has become more aware of since Covid19.
What are the advantages of diversity in your company? Are there also disadvantages? 

Diversity is of course exhausting at first, because hurdles have to be jumped and the unknown has to be learned. But there is also a "return on investment": having two different perspectives on the same topic is like standing on two legs. It is more secure and stable. And that is important for our work.
Do the foreign experts have to speak German? 

In many cases - from a purely professional point of view - it is not necessary. If you live in German-speaking countries, you should be able to speak German. After all, life is not only about work.
What knowledge beyond professional competence do employees from abroad bring with them? 

I don't think it's so much about knowledge. Just the willingness, the motivation to leave one's comfort zone in one's home country and to want to broaden one's horizons, gives an attitude a drive.
How did you get the skilled workers from abroad? 

They applied in response to advertisements from anapur. We didn't specifically look for them. Especially 20 years ago, we received a lot of applications from India. I attribute this to our company name. Anapur is derived from Sanskrit. Maybe that inspired a lot of people. And of course the green card regulations in Germany at the time.
How did you find out about ABA - Work in Austria? 

We have been in contact with ABA for a long time and receive the newsletter.
How was ABA - Work in Austria able to support you in finding and recruiting a suitable skilled worker? 

ABA helped us with the application for a RedWhiteRed - Card for a new employee. First, they explained to us how the process works. You can also find this out on the websites of the authorities. But the things that are important in practice, such as how long it usually takes or "on Friday mornings the phone is not manned at the XY office" or even direct contact with people at authorities once in a while. That helped a lot.
How long have you been looking for a suitable employee? 

We are constantly looking for suitable staff. The process takes 4-6 months.
In which areas do you have the biggest problems finding suitable staff? 

We are looking for people who are interested in IT and have completed a technical degree, e.g. mechanical engineering, electrical engineering, biotechnology. They are then supposed to help make processes secure in the pharmaceutical industry. The most difficult thing is to find IT security personal.
How do you support professionals who come from abroad when they start working in your company in Austria? 

Support in dealing with authorities is the most important hurdle we can help with. But there are always smaller questions, such as which bank should I open an account with.
Why should skilled workers work in your company in particular? 

We are a small company with a nice "spirit". However, we work for large - often international - companies and are always involved with new high technology. You stay on the ball professionally and have nice colleagues.
What structural changes would make it easier for you to find the right people for your company? 

The main problem in our case is rather that there are few people overall who have the necessary profile. I would have to think a bit more about possible structural changes.
What experiences have you already had with recruiting foreign professionals? 

There are some and some. Just like with nationals.
Back to main navigation