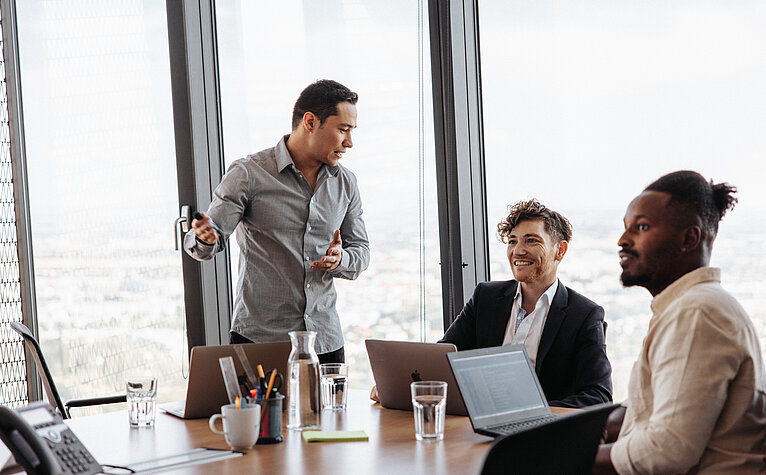 Moving to Austria
Working in Austria
What you should know about potential candidates
A blog post by Margit Kreuzhuber, Head of WORK in AUSTRIA
How can one stand out as a company? How do you attract the best employees and what leads someone to refuse a job offer even if it is a good one? The study "Future of Recruitment – What Job Seekers Wish Employers Knew" by Boston Consulting Group (BCG), StepStone and The Network took a closer look at these and other questions. Here you will find a few things companies can learn.
How do companies succeed in attracting employees at a time when there is a shortage of skilled workers? This is something many people are currently focusing on. However, there is no general answer to this question. But what we do have is data, for example the recent study "Future of Recruitment – What Job Seekers Wish Employers Knew" conducted by Boston Consulting Group (BCG), StepStone and The Network. They interviewed 90,000 employees in 160 countries, 1,000 of whom are in Austria. Is there anything employers can learn from this? Quite a lot!
Tough competition for good employees

Good people are in demand – not only by companies but also competitors. As the study shows, seven out of ten employees in Austria are offered positions outside of their respective companies several times each year. This corresponds approximately to the global average. However, Austrians have less self-confidence when their careers are on the line.  Only 62% of them (vs. 68% worldwide) think they would have a good negotiating position if they changed jobs. This fact is also reflected in the willingness to make a change. 42% of all employees surveyed were searching for a new job, compared to only one-third in Austria. All this means that it would make sense for companies in Austria to extend the search for employees beyond the country's borders. This is because there are considerably more people abroad willing to relocate for a new job than in Austria.   
Salaries and the work-life balance are important

Whoever is looking for skilled employees should also be aware of what the dealbreaker is for potential employees. For Austrians, the most important factor is the salary (27%), followed by recognition of one's work (21%) and the work-life balance. Things are a bit different in an international comparison. Across the globe salary remains the most crucial thing (21%), but the work-life balance already rates second (19%), followed by occupational safety (15%). Whoever focuses on these criteria will have it easier to arouse the enthusiasm of potential candidates.
Honesty is the best policy

All companies want to stand out in the competition for the best minds. But what does "stand out" actually mean in the eyes of the job seekers? In any case, honesty is crucial! Close to nine out of ten candidates say that an employer makes a particularly good impression if he or she is honest and candid about things and does not try to present the job as being better than it really is. One can also stand out with a timely and pleasant process (75%) where one displays an interest in the particular job candidate.  
High expectations concerning the application process

If a person actually gets involved in an application process, this does not mean a job offer will necessarily be accepted. The study concludes that the application process itself and the behaviour of the company are both extremely important. Close to seven out of ten interviewees state that they would refuse a good job offer if they had negative experiences during the application process - which includes a lack of the right "chemistry" with the person conducting the interview. Four out of ten candidates would also turn down job offers due to their doubts concerning potential supervisors and colleagues. The same number will also reject such an offer if they believe the application process is unprofessional, too slow or disorganised.

Companies can succeed in luring skilled employees if they are open to negotiating (63%), show the potential workplace (58%) and establish contact to potential colleagues. The future manager's personal encouragement and commitment urging the candidate to accept a job offer is also deemed to be a positive factor (43%).   
My conclusion: take a look at employees outside of Austria

What are the takeaways from the study in addition to practical tips? Generally speaking, Austrians are less willing to change jobs than the worldwide average. For this reason, it is recommended to also extend the search beyond the country's boundaries. Even if recruiting candidates from abroad may seem more difficult at first, do not let this deter you from moving ahead. The reform of the Red-White-Red – Card in October 2022 put substantial simplifications into effect which are aligned to the practical needs of the business community. Moreover, with the WORK in AUSTRIA department of the Austrian Business Agency (ABA), you have an experienced contact point at your disposal to provide support. Thanks to the high quality of life and attractive conditions, Austria is not only an interesting market for foreign companies but also for international skilled workers.
Back to main navigation