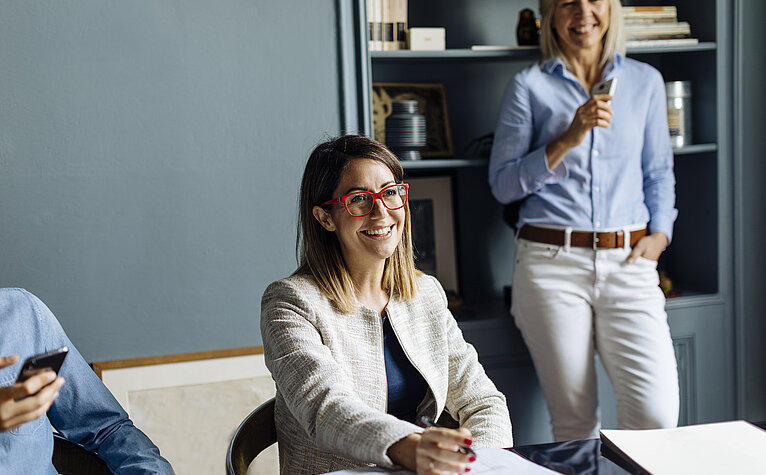 Worker rights and responsibilities
Working in Austria
Average salaries in Austria: We've listened to what people have to say
As we all know, money is not everything. But it is an important factor in deciding whether to accept a new position or not. And that's not without a good reason! Your salary ultimately determines which possibilities you have and what lifestyle you can pursue. As a specialised employee, it is recommended that you find out which salary expectations are realistic for you when applying for a job in Austria - even if the minimum salary must be included in every job advertisement.
This is how high the average income is in Austria 

Employees in Austria earned an average gross income of € 32,000 per year in 2018. This corresponds to an average monthly salary of about € 2,400 on the basis of 14 paid salaries before any deductions are made. However, this figure actually also includes part-time employees and salaried employees who are not employed the entire year. According to the Austrian Statistical Office, year-round, full-time employees earn much more than this. In this case, the average gross salary or wage level turns out to be about € 51,000 p.a.  

However, not only do working hours affect the average salary, but also the employer's location. Western Austria ranks at the top of the salary scale and is also at the lower end at the same time. Full-time employees in the federal province of Vorarlberg enjoy the highest income, whereas people working in Tyrol have the lowest salaries. Vienna is right in the middle. Nevertheless, on average, specialist employees and executives tend to earn the most in the Austrian capital city.

If you take a look at the annual development of salaries in Austria, you can hope for regular salary increases if you are hired to work here. This is because the salary level has steadily risen for years. For example, the negotiations between the Austrian trade unions and employer representatives contribute to this. The so-called collective agreements concluded in various sectors regulate terms and conditions of employment for many employees in Austria.
Average annual income: Austria in an EU comparison 

The average salary in Austria looks quite good in an international comparison. In the EU, the income of Austria's full-time employees is rated in the upper third of the member states, closely followed by Germany. According to the OECD, employees only get a higher average salary in Denmark and the three Benelux countries. However, you will not find a single mountain higher than 700 metres in Belgium, the Netherlands and Luxembourg.
Austrian sectors and occupational groups with the highest salaries 

The average salary provides a good orientation guide concerning the topic of working in Austria. However, a closer look at the salary levels in individual sectors is much more meaningful for professionals and executives. Gross salary differences of up to € 25,000 per year are possible, as a Salary Report in the year 2019 concluded. The evaluation took the assertions made by about 12,000 specialised employees and executives throughout Austria into account. 

The leader with respect to salary levels is the chemical and oil refining industry, where skilled employees and executives earn more than € 60,000 on average every year. However, you can also count on earning a similarly high average salary in the IT sector, banking or by working for companies in the energy and water supply business in Austria. In contrast, you will earn about € 10,000 p.a. less in the fields of management consulting, auditing and electrical engineering. 

Regardless of the particular sector, project managers comprise the most highly paid professional title in Austria, featuring an average salary of close to € 62,000. By the way, with respect to a person's title: an academic degree entitles a skilled employee in Austria to earn considerably more. Salaried employees with an academic degree earn up to € 20,000 more p.a. This also strongly depends on the number of years of professional experience. Furthermore, the size of the company also plays a role. Generally speaking, you can expect a higher salary in a company in Austria with more than 1,000 employees than with smaller firms.

Incidentally, the AMS Gehaltskompass (AMS Salary Compass) offers specific information on possible starting gross salaries. It lists some 1,800 different occupations.
Taxes and tax classes in Austria 

For you as a specialised employee, the key question when it comes to the salary levels in Austria is likely to be the amount actually paid into your bank account after deducting all taxes and charges. It is important to note that calculating one's net salary is not a simple thing. The payment of taxes in Austria is one of the main items to take into consideration.

In Austria income from gainful employment is subject to income tax. However, you yourself do not have to do anything to pay the income tax, because your employer pays your tax amount directly to the tax office each month. The amount of taxes to be paid depends on your total annual income. In calculating taxes, the so-called tax classes are applied, which are listed in the Austrian Lohnsteuertabelle (table of tax brackets).

Are you interested in finding out what net salary you will get at the end of the month? In this case, use the Brutto-Netto-Rechner (gross net tax calculator). Here you can also determine the salary-related amount of contributions to be paid into the country's social insurance system, as well as non-cash salary benefits such as a company car or company flat and the commuter allowance.
Special bonus payments in Austria: the 13th and 14th salary 

Finally, some good news for you at the end of this blog. The vast majority of employees in Austria can look forward to fourteen monthly salaries per year. Yes, you have read this correctly. The additional salaries - the holiday allowance and Christmas bonus - correspond to two additional monthly wages or salaries in most cases. These special payments are not legally prescribed, but as a rule are included as part of collective agreements or employment contracts. As a result, it is fun to take a vacation, and the Christmas celebration can be a bit more lavish.
Back to main navigation