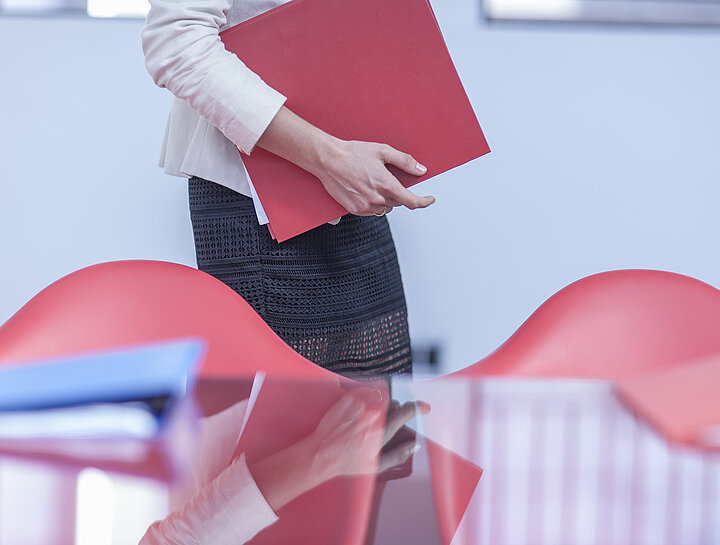 Living & Working
Competency assessment
Recognition of qualifications
Because of the fundamental free movement of professionals, specialised employees are principally allowed to work internationally, exercise their profession and offer their services.
However, special qualifications or a title are required for so-called "regulated professions". Requirements can differ from one country to the next. For this reason, mechanisms used in recognising qualifications acquired abroad are applied.
Regulated professions
 
Directive 2005/36/EC provides the legal basis for the recognition of professional qualifications. These guidelines apply to regulated professions such as nurses, midwives, physicians, dentists, pharmacists, architects and veterinarians.
This directive does not apply to professions in which the recognition of qualifications is regulated by separate legal provisions, such as lawyers, seafarers, insurance brokers and air traffic controllers and others.  
If you want to practice a regulated profession in Austria and the equivalence of your qualifications exists (e.g., by completing your studies in an EU member state), you still have to submit an application to the responsible public authority, which must confirm the equivalence of your education. The public authority which is responsible depends on the specific profession you intend to exercise.
If you have completed your qualifications in an EU or EEA member state, it is generally assumed that your education/training is equivalent to the one provided in Austria.
This procedure in connection with an EU education is called professional recognition or professional accreditation.
One possibility is that your education is automatically recognised (only in the case of doctors, nurses, midwives, dentists, pharmacists, architects and veterinarians).
Otherwise, your education will also be reviewed with respect to its equivalence to a corresponding Austrian education on a case-by-case basis and, if necessary, this equivalence is then established by supplementary exams.
If you have not completed your education in an EU or EEA member state, it is generally not assumed that your education is equivalent to an Austrian one.
This procedure in connection with education acquired in third countries is called nostrification ("Nostrifizierung") or validation in the case of school diplomas.
Nevertheless, it is possible that your education is considered to be equivalent to an Austrian one based on the principle of equivalence stipulated within the context of bilateral agreements (e.g., with Bosnia and Herzegovina, China, Kosovo, Mongolia, Montenegro, Serbia and Switzerland). Additional requirements for recognition may be specified depending on the contents of the agreement.
Otherwise, your education will also be reviewed with respect to its equivalence to a corresponding Austrian education. Key criteria are, for example, the duration and contents of education, field of work, professional experience, completion of the education, etc. If your education comprises less than 50 percent of the scope of the Austrian education, this cannot be compensated by supplementary exams.
Attention
In healthcare professions, German language skills (at least at a B2 level of the Common European Framework of Reference) represent an additional requirement for being hired. However, you first have to show this if you want to work in these professions and not for the purpose of getting formal recognition of your education.
Recognition of professional qualifications
The procedure for the formal recognition of professional qualifications ("Berufsanerkennung") involves recognising qualifications (e.g., university degrees, school-leaving qualifications, apprenticeship diplomas) acquired abroad in order to be able to work in Austria.
There are different procedures you can or must go through depending upon the area for which you want to have your qualifications recognised and where you acquired these qualifications. In many cases, you must go through such procedures before you are allowed to work in Austria.
Special case

Nostrification of education in healthcare and nursing and application for a residence permit

If you want to work in a regulated healthcare and nursing profession (nursing assistant, advanced practice in healthcare and nursing), you must have your education nostrified.

Exception: If you completed your education in a healthcare or nursing profession in an EU or EEA member state or Switzerland, you can apply for recognition to the Austrian Federal Ministry for Social Affairs, Health, Nursing and Consumer Protection ("Bundeministerium für Soziales, Gesundheit, Pflege und Konsumentenschutz").

Your diploma from abroad is only nostrified when you have passed all the examinations (and internships, if applicable) specified in the nostrification process.

You can apply for a Residence Permit – Student ("Aufenthaltsbewilligung Student") when your education at a university of applied sciences has been nostrified. If you are accepted into a nostrification course (e.g., if you study at the School for Healthcare and Nursing in Vienna ("AWZ, Schule für Gesundheits- und Krankenpflege"), you can, under certain circumstances, get a Residence Permit – Pupil ("Aufenthaltsbewilligung Schüler") during this process. 

Note: If you have a Residence Permit - Pupil ("Aufenthaltsbewilligung Schüler") or a Residence Permit - Student ("Aufenthaltsbewilligung Student") and would like to work on the side (in compliance with the respective professional requirements), your employer needs a work permit ("Beschäftigungsbewilligung") for you. In the case of an application for a work permit for an activity of up to 20 hours per week, the AMS may not carry out a labour market test ("Ersatzkraftverfahren"). For an activity of more than 20 hours, the AMS may carry out a labour market test ("Ersatzkraftverfahren") in which it checks whether an equally qualified person registered as a jobseeker at the Public Employment Service (AMS) can be placed instead.

Under certain circumstances, provisional employment in the nursing sector is already possible during a recognition/nostrification procedure. 

You need a job offer to apply for a Red-White-Red – Card for Skilled Workers in Shortage Occupations via a change of purpose ("Zweckänderung") of your previous Residence Permit – Student or Residence Permit – Pupil.
Frequently asked questions
01

When must I have my qualifications recognised?

 

If and how your qualifications can be or must be formally recognised depends on a number of factors, for example if your profession/qualifications are regulated in Austria. If your profession/qualifications are not regulated in Austria, then, in principle, no formal recognition is necessary.

Nevertheless, an evaluation – voluntary recognition – can still make sense, for example when it involves the classification of qualifications in collective agreements, the classification of an employee within a company's salary scheme or employment in the public sector.

02

What are regulated professions?

In order to be able to exercise a regulated profession as a self-employed person specified qualifications or a title must be possessed. The list of professions which are regulated and the specific requirements involving in exercising these professions vary within the EU. Qualified specialised employees who want to apply for positions in other EU member states must first inform themselves about which prerequisites have to be fulfilled.

03

Which regulated professions exist?

Every EU member state put together a list of its particular regulated professions in order to provide an overview of the regulated professions in the EU and conditions for gaining access to this profession. Subsequently a mutual evaluation of the prerequisites for gaining access to these professions was carried out.

The underlying objective was to simplify and improve access to information about regulated professions and oblige the EU member states to review their own demands on people for exercising these designated regulated professions.

Moreover, a database with the updated list of regulated professions was compiled. It also provides information about the prerequisites for practising professions in the individual EU member states and EEA countries and Switzerland: Regulated professions database Furthermore, an interactive map shows the distribution of regulated professions in the individual countries according to specific sectors.

04

For which professions do I need the European Professional Card (EPC)?

The EPC is an electronic certificate which is issued via an EU-wide online process for the recognition of qualifications. The EPC could be expanded in the future to encompass other professions as well.

For the time being, the European Professional Card (EPC) is valid for a total of five professions, namely for:

- nurses
- physiotherapists
- pharmacists
- real estate brokers
- mountain guides

05

Where can I have my qualification acquired abroad recognised?

It is important to inform the competent authorities in Austria to make sure that the qualifications or diplomas acquired elsewhere (EU, EEA or third countries) are recognised as the basis for working in that particular profession. In this way, measures can be taken in a timely manner to ensure the validation of qualifications, if necessary.

There are four contact points in Austria which are responsible for the recognition and assessment of qualifications acquired in other countries. They are located in Vienna, Linz, Graz and Innsbruck. Moreover, weekly consultation days take place in all other Austrian state capitals.

- AST Vienna, AST Lower Austria and Northern Burgenland and the coordination of contact points under the auspices of the Counselling Centre for Immigrants in Vienna
- AST Upper Austria and Salzburg at migrare – Centre for Immigrants in Upper Austria, which is located in Linz
- AST Styria, Carinthia and Southern Burgenland at ZEBRA – Intercultural Centre of Counselling and Therapy, located in Graz and
- AST Tyrol and Vorarlberg at ZeMiT – Centre for Migrants in Tyrol, located in Innsbruck

In line with § 5 Recognition and Assessment Act (AuBG), multilingual information, counselling and support are offered for the entire recognition and assessment process free of charge.

These services are provided with the aim of facilitating the integration of skilled professionals into the labour market in accordance with their qualifications. The first step is to clarify whether the formal recognition of qualifications is necessary or possible. If needed, certified translations of diplomas and certificates will be obtained.  Support is offered in applying for assessments and if required, also for the recognition process. Furthermore, information is supplied on follow-up counselling options and further education offerings. If the formal recognition of qualifications acquired abroad is not possible, the responsible AST counsellor will present alternatives and potentially establish contact with cooperation partners.

The cost-free services of the AST offices are available to people residing in Austria who have acquired qualifications abroad and who have done more than compulsory schooling. The counselling services target people who, in principle, have access to the Austrian labour market. However, these services are offered regardless of the person's employment status (unemployed or employed), citizenship or national origin.

The underlying objective is to promote the potential of qualified people from abroad and thus secure valuable specialised employees for the Austrian labour market.

 

06

How can I study in Austria?

Only those are eligible to study at an Austrian university who have general university entrance qualifications. Proof is usually the graduation certificate from secondary school. If the certificate is not in German or English it has to be translated in order to be useful for the immigration process to Austria.
Back to main navigation