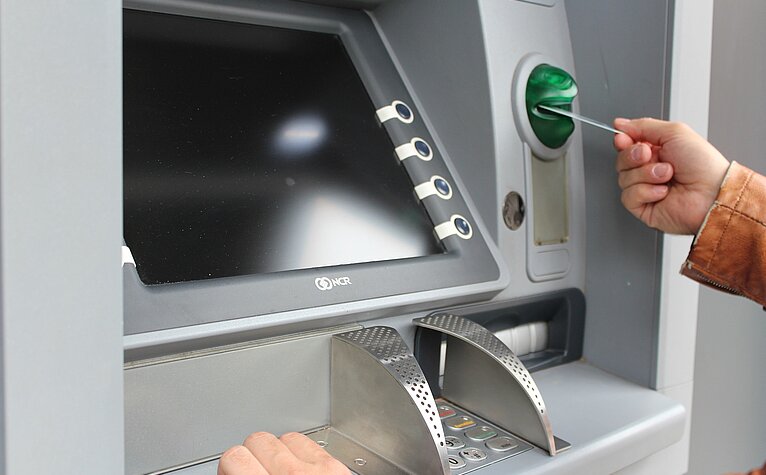 Moving to Austria
Working in Austria
Living in Austria
This is how you - as a foreign national - can open a bank account in Austria
So, the new rental agreement has been signed, the moving boxes have been packed, and your anticipation is growing immeasurably. Austria is well-known for its unique culture, diverse scenery and great working conditions. If you as a specialised employee are about to embark on the adventure of living and working in Austria, of course a suitable local bank account (Bankkonto) is indispensable. However, it is not so easy to find one's way around in the jungle of possibilities. Naturally, there are several things to keep in mind when opening a bank account. In this article we have summarised what exactly you have to do to open a bank account in Austria in a quick and uncomplicated manner, and what you should know about making payments in Austria.
 
What documents do you need to open a bank account in Austria? 

First of all, it should be said that there are no special current accounts (Girokonto) designed just for citizens of other countries. The fact is that nationality is not a differentiating factor. However, for tax reasons, the country in which you normally reside as well as your place of residence will be scrutinised. But actually, there are no major differences in how banks handle the process of opening bank accounts. EU nationals as well as Austrian citizens have to be able to identify themselves for bank transactions. If you want to open a bank account in a different language other than German, it makes sense to first inquire with the bank of your choice.

Generally speaking, it is quite easy for specialised employees to open a bank account in Austria. Many financial institutions make it possible for you, as a potential customer, to easily make all the necessary preparations online with respect to opening an account and to inform yourself about financial products on the Internet. As a rule, the formal opening of the bank account takes place within the context of a personal appointment in the branch office or outlet of the bank. A short time later, you will receive your bank card (Bankkarte) or cash card, known in Austria as the "Bankomatkarte". The access data to online banking will usually be sent to you separately in the mail. Some banks also offer the option of identification via video telephony or by means of paying a small amount via bank transfer. This serves the purpose of comparing data with your current principal bank. If you do not live in Austria yet or have to travel a lot, this approach to opening a bank account can be a practical alternative. In this case you will also receive the necessary documents and your cash card by mail.

Are you uncertain about something? In this case, simply call the bank of your choice in order to find out more about the exact procedures and the documents you require. There may be exceptions for people who are not EU citizens. In order to open a bank account, you generally need the following documents:
Official identification document with a photo (Lichtbildausweis) such as a passport or valid identify card
Residency registration form (Meldezettel) or other valid proof of residency
Employment contract (Arbeitsvertrag) or other proof of employment
Your three last salary statements (Gehaltsnachweis)
Selecting the right bank 

Which bank provides just the right conditions for you and offers the best products? This depends to a large extent on your needs and habits. Do you have a lot of postings to your bank account (recording of transactions) each year? Do you require a credit card? How often do you withdraw cash from your account? What services are important to you?

Austria actually boasts one of the densest banking networks in Europe with more than 800 certified banks. It is by no means an easy task to keep track of the extensive offering made by banks and to correctly estimate the costs involved for their services. For this reason, the EU Payment Accounts Directive stipulates that in every EU member state, and of course also in Austria, there must be at least one Website which provides a comparison of rates for current accounts. You can make use of the Bank Calculator of the Austrian Chamber of Labour(Vergleichsrechner der Arbeiterkammer) in order to get an independent and neutral view of the situation. Not only can the large banks register for this tool to show their products, but you will also get to see the offerings of smaller regional banks. The largest banks in Austria include:
Erste Group Bank AG
Raiffeisen Bank International AG
UniCredit Bank Austria
BAWAG Group AG
Online alternatives: Internet banking in Austria 

The business with online banking is booming in Austria. More than half of all Austrians, or 63 percent to be more precise, take care of their banking business online or by using an App on their smart phones. An online account in Austria is not only quite practical but also a cost-effective alternative to carrying out all banking transactions by personally going to the bank counter. According to a calculation by the Chamber of Labour, the holder of an online bank account saves about e 30 annually in fees. However, additional costs may quickly arise, for example when you make a cash withdrawal over the counter or want to take advantage of other personalised services. In any case, familiarise yourself with the terms and conditions and carefully compare the various offers. Keep the following points in mind:
Approximately how many transactions do you carry out each year, and what kind of transactions are they?
Do you require personal on-site support in your branch office?
What fees do the banks charge? Compare costs!
Is it still difficult for you to make a choice? In this case, you can also turn to the assessments contained in the BankenRankings in Austria. Here you will find a list of more than 500 banks which are evaluated according to the three key criteria of independence, security and profitability (with the last ranking based on the 2017 business results). The list also includes a large number of online banks which might be worth considering. 
Legal entitlement to a payment account (Zahlungskonto) – the so-called basic payment account (Basiskonto) 

If a current account is not a viable option for you, and if the bank has rejected your request to open up a current account, the bank is obliged to proactively inform you about the possibility of opening a basic payment account. Since 20176, every individual who is legally entitled to reside in the European Union has had the right to a basic account as a means of carrying out his or her own payment transactions. This type of bank account represents an alternative for people who cannot open a current account due to credit rating problems or in the case of private bankruptcy.  

The basic account can be opened at every bank which also offers current accounts for consumers. You do not even have to work in Austria and your place of residence need not even be registered in the country in order to open a so-called basic account. Your bank is only allowed to refuse to open an account if both of the following factors apply:
You already hold an activated current account in Austria.
You have committed an act against the bank or employees of the bank which is punishable in a court of law and for which charges have been filed against you.
Furthermore, the bank has to provide you with all the information relating to the basic account as well as the contractual terms and conditions. This also applies in cases of language barriers, for example for people from EU member states for which the task of handling bank business in a foreign language can be a major challenge. In such cases, the banks are required to provide assistance free of charge with opening a bank account. It should be pointed out that the basic account should not be recognisable as such from the outside, for example by assigning a special International Bank Account Number (IBAN) to it. The basic account does not differ significantly from other current accounts with respect to the services offered. However, it is not permitted to overdraw a basic account.
The project "A bank account for everyone" goes back to an initiative launched by the Chamber of Labour. As one of the four social partners in Austria, the Chamber of Labour is committed to achieving just and fair working conditions for all employees in the country.  
SEPA bank transfers and payments abroad 

SEPA stands for Single Euro Payments Area and has focused on a standardised system of making payments in Europe since the year 2014. In this way, you can easily carry out payment transactions in euros or receive payment throughout the SEPA region. This particularly facilitates payments for and from specialised employees. They only require their international bank account number, in short IBAN, for SEPA payments, as well as the IBAN of the payment recipient. They only have to declare the identification code for their respective bank, namely the bank identifier code (BIC) or SWIFT number, for payments outside of the European Economic Area (EEA). The SEPA region encompasses all EU member states, the four members of the European Free Trade Association EFTA, namely Iceland, Liechtenstein, Norway and Switzerland, as well as Andorra, Monaco, San Marino and the Vatican. As a rule, SEPA bank transfers are free of charge. If you have any questions, the best thing would be to directly contact your bank.  

Naturally, you can also implement cross-border bank transfers to other countries. The bank carries out payment transactions in foreign currencies at the earliest possible exchange rate. Normally banks charge fees for payment orders abroad. It is recommended to inform yourself in advance as to how high the fees are. 

Do you now know more about the topic of current accounts in Austria? Find out what else you can look forward to in the country with the highest quality of life.
Back to main navigation