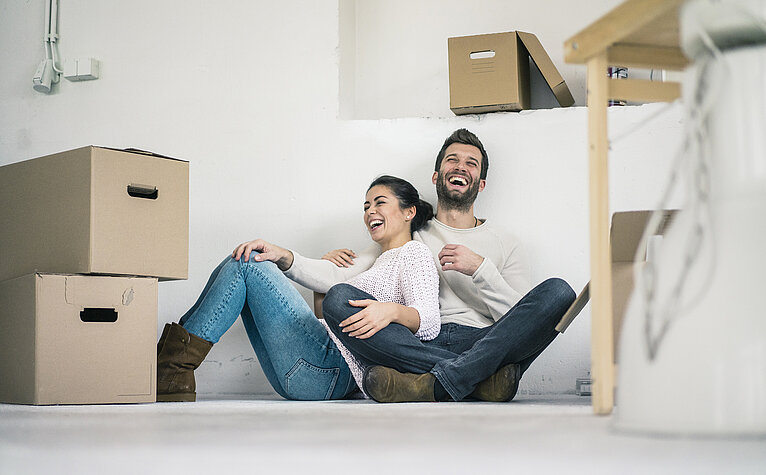 Moving to Austria
Living in Austria
Relocating without stress - What you should keep in mind when moving to Austria
You have been offered a job, found a new apartment and organised a farewell party. What happens next?

Organisational skills are always need to move house, especially when you relocate abroad.

We will give you an overview what you must keep in mind when emigrating to Austria, and which bureaucratic stumbling blocks can be very easily avoided.  
What requirements do I have to fulfil in order to move to Austria? 

Different rules apply for EU and non-EU nationals when moving to Austria.

If you come from an EU or EEA member state or from Switzerland, you can reside in Austria for three months without any restrictions. You do not require a visa for this purpose. A valid ID card is sufficient.

If you want to stay in Austria for longer than three months, you are required to register with the authorities. This means you have to apply for a registration certificate. In order to get this, you must notify the local or municipal authorities of your place of residence within three days.

Citizens of countries which do not belong to the EU or EEA have to apply for a visa to stay in Austria for up to six months. These documents you need to show for issuing visas.

For longer stays you will require a residence permit. As a qualified employee, you are eligible to apply for the Red-White-Red Card. Here you can find out which prerequisites you will have to fulfil for the Red-White-Red Card.

In this case you are also required to notify authorities of your place of residence.
What must I organise before moving? 

Provide timely notice of your plans to move from your current place of residence. In this way you will avoid having to pay double rent.  

Nobody wants to move into a cold apartment without electricity. Here you will a checklist of the services you will have to organise in advance:
Electricity
Internet
Telephone
TV/radio/cable TV
Household insurance
Waste disposal
Ask the property management office how the apartment is heated, and also which energy suppliers are available for this particular address. Frequently you will have to enter into individual contracts with these companies. Sometimes it pays to compare the rates of energy suppliers in order to reduce costs.
Are you taking a car with you when you move? Find out about the parking situation in the area where you will live. If your apartment rental does not include a parking space, many cities offer solutions for residents in the neighbourhood. You may also find a low-priced garage with a bit of luck.
Arrange to leave a day free for the handover of the apartment and the keys. When this takes place, take photos of the apartment to document the condition of the apartment. In this way you have suitable proof if damage is done.
Choosing a reliable moving company is essential to ensure a smooth transition to your new home. While there is no sure-fire way, you can take a look at factors such as how long a company has been in business and whether it has certificates confirming it meets certain requirements. Collect reports on experiences from acquaintances or on the Internet. In this way, you can quickly find out which international movers are worth the money you will pay them. Keep in mind that packing for an international move is different from moving within a country or a state. For security reasons, self-packing is not allowed in most countries and must be carried out by your chosen moving company.
Taking over an apartment 

If you have agreed to pay key money to the previous tenant for furniture and fittings left in the apartment, make sure you have a written agreement as to which furniture will remain in the apartment and for which price. Here it is also recommended to take photos of the items involved.  

Check the apartment to ensure that there are no defects. Make sure that you have received all the apartment keys which are specified in the contract.

Write down the precise metre reading for gas, electricity, water, heating etc.  

Keep all the invoices for services relating to your new residence (brokers, transport costs, renovation costs etc.). In some cases, these costs may be tax deductible.
Which customs regulations must be considered when relocating to Austria? 

In this case, special regulations apply to people moving from other EU member states. As an EU citizen, you do not have to pay any taxes for household effects.

If you move from a non-EU member state, the items you take with you are subject to certain customs regulations. Used goods for your own personal use are not subject to import duties. 
They include
Household goods (personal items, clothing, furniture, appliances)
Bicycles, motorcycles passenger car including a trailer, camping trailers, sports aircraft, water sports vehicles
Household supplies (in quantities usually kept by a family)
Pets and mounts
Portable instruments for free-lance activities or handicraft work which are needed to practice one's profession
In order to be exempt from import duties, you have to fulfil the following prerequisites
You relocate your habitual place of residence to an EU member state.
The household effects belong to you.
You used these goods at your previous place of residence for a period of at least six months.
You will use the items at your new place of residence for the same purpose.  
Your place of residence abroad was for at least twelve successive months.
You report the household effects for customs clearance within twelve months after substantiating that you reside in Austria at this place of residence.
You are not permitted to give the household effects to anyone else for a period of twelve months after customs clearance.  
The following goods are not exempt from customs duties
Alcoholic products, tobacco, and tobacco products
Utility vehicles
Items used for commercial purposes (except for portable instruments)
If any items look as if they have not been used beforehand, customs authorities could demand proof (e.g. invoices, warranty card) that the goods already belonged to you and were used by you before your relocating to Austria.
In order to prove exemption from customs duties, you will need to fill out certain forms in advance before customs clearance. You can download the appropriate forms (in German and in English) here.
In particular, the following documents are suitable in order to prove your residence in Austria or in another country during the previous twelve-month period:  
Official registration of your address with public authorities, or the corresponding deregistration
Registration certificate of your residence in Austria
Work or employment contract
Rental agreement
School registration of your children
If you lack this proof or the filled-out forms when the goods are imported, you can hand them in at a later time. In this case you will have to deposit a certain amount of money as security which you will get back when you submit the required documents afterwards.
Relocating with your car 

Unless you purchase and import a new vehicle, you don't need to go through Customs

when moving between EU-member states. If you're importing your vehicle from a third

country, you'll need to submit a proof of value and fill out additional paperwork.
 A 10% duty will be charged on the vehicle's value (purchase price plus delivery costs to the EU's external border)
plus a 20% import turnover tax, based on the purchase price, delivery costs and the Customs duty amount. 
Regardless of where you brought your vehicle from, you are obliged to pay the standard consumption tax (NoVA) for each registered vehicle.
Please note that third-party liability insurance is required for your automobile in Austria.When you move, please keep in mind that you will have to register your vehicle in Austria as quickly as possible (no later than one month after your arrival) and that it will need an Austrian license plate. Otherwise you will risk being fined. 
If you take your car with you from a non-EU member state, you will have to show proof of ownership and the previous use or registration of the vehicle abroad (e.g. purchase or leasing agreement, invoice, delivery note, motor vehicle registration, insurance documents).
In this case, you will also have to pay the standard consumption tax (NOVA) in Austria before the vehicle can be registered.
Change of address/mail forwarding 

Arrange to have your mail forwarded to you at your new address in Austria so that you will not miss out on any important postal items. Just about every postal services provider offers this service.  

Also do not forget to notify important public authorities of your new address.  If you enjoy buying goods online and have already stored your profile, also change your delivery and billing address there.
Apply for vacation time 

If you are already in an employment relationship with an Austrian company, you can apply for up to two days of special leave for the purpose of moving.

You will find precise information as to how many paid vacation days you are entitled to for the purpose of moving in the collective salary agreement (in German).
Moving with pets 

When bringing a pet animal to Austria, you must comply with a customs check or an examination by a border veterinarian. In total, you can bring only five dogs, cats, or ferrets, with some exceptions. Some animals, such as reptiles, most birds and domestic rabbits, are exempt from documentation, while dogs, cats, and ferrets need to be both identified with a microchip approved for the EU (inserted under the skin), and must have been issued an animal health certificate (Gesundheitsausweis für Tiere) or a standardized EU-wide pet passport (Heimtierausweis).

The certificate must be issued by an official veterinarian in your country, written in German or English and be no more than 10 days old upon entry into the EU. The certificate can be issued for several animals at a time, but each animal must have a valid vaccination against rabies and be at least seven months old. If you are the owner of an exotic animal, make sure to look into what animals are allowed entry into Austria.

Here you can find precise information about the documents you will need when your pet is imported into the country.

Please keep in mind that dog owners in Austria have to pay a fee for having the dog. Every dog must be registered. Moreover, the various federal provinces have different regulations pertaining to requirements to keep dogs on leash or to ensure that they wear a muzzle. Find out which rules apply by contacting your local or municipal authority.
Helpful links
Back to main navigation