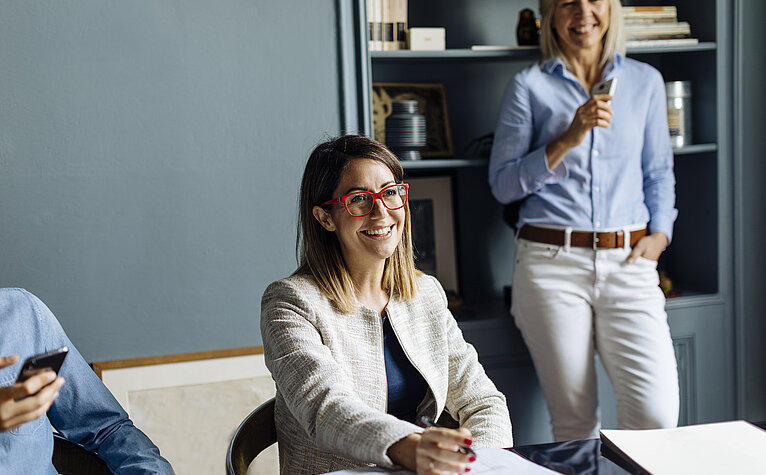 Moving to Austria
Working in Austria
How you can attract digital talents to your company
There are people who are highly qualified and willing to go abroad for a job. They are in great demand at present. In light of the increasing shortage of skilled workers, finding and retaining the best minds is not only a top priority of companies, but also of economic policy.
In particular, digitalisation specialists are in short supply. Dynamic technological metropolitan areas such as Amsterdam, Bangalore, Berlin, Dubai, Dublin, London, São Paulo, Seattle, Shanghai, Singapore and Tel Aviv set the pace and have emerged as pulsating centres of the international economy. One could assume that these cities have grabbed the pole position in the competitive race to lure digital talents. However, the current study implemented by the Boston Consulting Group (BCG) -  Digital Workers Are on the Move. Here's What They're Looking For - provides powerful arguments as to why the Alpine Republic in particular can score points with talented people and what companies can do to attract these talents to their own firms. 1,000 technology specialists around the world were interviewed, all of whom moved abroad recently to begin a new job.
Job starters are the most mobile people

The good news is that about 40% of the digital talents across the globe are searching for new jobs, and many of these tech employees are also open for a change in location. More than half of the IT specialists who were surveyed are engineers, programmers or Web developers who are in demand. About 10% each specialise in mobile applications, artificial intelligence and analytics. The overwhelming majority of digital talents who move to another location do this at the beginning of their careers. More than three-quarters of the people interviewed globally state that they take a job abroad within seven years after they enter the working world. In searching for international talents, companies are well-advised to increasingly and mainly focus on the group of career entrants. Here is where they have the most promising opportunities.
Actively targeting potential employees promises success

The study also shows that, in most cases, job changers are either recruited by companies at their new place of work or by employers in the country who also operate abroad. Relatively few relocations to other countries are initiated by the employees themselves or by their friends or families. Accordingly, the most promising approach is to directly appeal to the best minds, and this should be at the very top of the list of recruiting measures.

Whoever changes locations does it repeatedly. Most digitalisation specialists consider their move to be a temporary one and they intend to stay at their new workplace for about five years. They had already moved a second or third time. Employer branding can contribute to targetedly addressing this group and should also incorporate soft factors in their messages, above and beyond advantages such as salaries and career opportunities.
Quality of life is an important decision-making criterion in addition to earnings

The BCG study examines the issue of what mobile talents value. In addition to attractive salaries and employment in a certain sector, they place particular emphasis on improving their lifestyle, in light of the fact that about two-thirds of the interviewees live together with their spouses or life partners and children. However, quality of life, safety and an international education offering for their families are also decisive factors. This is also confirmed by Mario Riesner, CEO Sandoz GmbH, who serves as managing director of the Novalis facility in Tyrol. "We have had the experience that above all, a diverse and international educational offering comprises an important decision-making criterion for our future employees."

For this reason, special emphasis should be placed on Austria's advantages when recruiting top international specialists. Austria stands out thanks to its high density of innovative companies. The company is not only home to numerous international organisations but also offers a broad spectrum of international schools. There is hardly any country in the world providing such a comparable protection of people and property as in Austria. One can take public transportation late in the evening or walk home after seeing a play in the theatre without having to worry. This is complemented by a top-notch healthcare system, a well-developed infrastructure, high quality living and a diverse educational offering. The outstanding quality of life attracts managers, investors and students from all across the globe. This is also attributable to Vienna's relatively favourable living costs, as illustrated by the "Cost of Living Survey 2020" city ranking compiled by Mercer.

Christian Strobl, Austrian Market Lead at the digital bank N26, confirms Austria's locational advantage for international talents. "Austria offers two specific advantages as a technology location. On the one hand, its central geographical location in Europe and proximity to Eastern Europe provides access to outstanding IT talents. Vienna ranks among the cities with the highest quality of life in Europe. Frequently I get feedback, particularly from our older colleagues, that they intentionally decide for Vienna for precisely this reason. They often move to Vienna with their families. Several come from Eastern Europe, Australia, Brazil and the Dominican Republic. Vienna is a safe and manageable big city with surrounding areas which are heavenly for families. We have a good infrastructure, an impressive natural environment and also have affordable rents compared to other startup strongholds in Europe. Here the situation is much less strained."
Work location of the future

My conclusion is that countries and cities could be more successful in global competition if they are aware of and take account of decision-making factors. Political measures should also do the same i.e., leverage existing strengths and enhance the attractiveness of the business location for digital talents and leading technology companies. Austria not only stands out because of its central location in the heart of Europe, but it is also one of the most prosperous EU member states. The underlying conditions for international skilled workers are being improved at present thanks to the reform of the Red-White-Red Card. This reform which took effect on 1 October 2022 streamlines procedures relating to the Red-White-Red Card, eliminates obstacles and aligns obligations to provide proof more closely to practical needs. In addition, companies and skilled workers benefit from advisory services provided free of charge by Austrian Business Agency (ABA), which is also regulated by law now. This and much more makes Austria a work location of the future which combines the high quality of life with a high level of internationalisation.
Back to main navigation