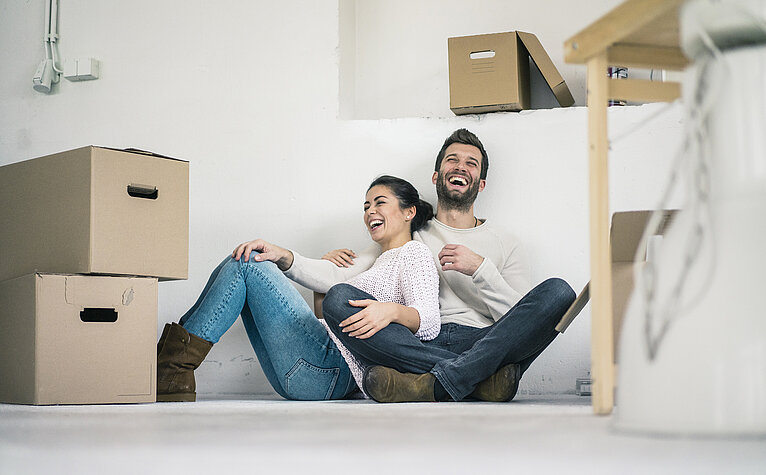 Moving to Austria
Living in Austria
Housing in Austria: What You Need To Know
Are you looking to move to Austria but not quite sure whether you want to rent or purchase a home? While both are great options, one may be more appropriate depending on your lifestyle. Learn more about renting and buying a home in Austria so you can make the right decision.
What is housing like in Austria? 

Whether you're looking to rent or buy, there are many properties to choose from when looking for a home in Austria. From cosy studio apartments and urban flats to wooden cabins and cottages out in the mountains, there's something for everyone. And while there is certainly no shortage of charming older housing, many of the newer buildings in Austria are known for their high quality, eco-friendly construction, which may be a draw to you.
Buying property in Austria 

Before buying property in Austria, there are a couple of things you'll need to know. For instance, how much does a house cost in Austria? What is housing like in Austria? Can a foreigner buy a house in Austria? This section will answer all of these questions.
Who is allowed to buy property in Austria?

Even if you aren't an Austrian citizen, you still can purchase property, but your journey might be a bit more difficult. Anyone who is a citizen of the European Union, the European Economic Area or Switzerland can buy property without any extra restrictions. These citizens are on equal terms with Austrians since Austria joined the EU in 1995. 

If you don't meet the above requirements, you'll need an official permit before building or purchasing a property. Obtaining a permit can take up to six months, and regulations will vary depending on the Austrian province in question. On some occasions, if your country of citizenship has a bilateral agreement with Austria, you can bypass this stage. Your permit request will typically be approved as long as your intended purchase and use is in line with the local authorities.
Property vs. co-property in Austria

In Austria, two types of homes exist: property and co-property. With property, the owner cannot build on the land, but they have full control over their home and the land supporting it. On a co-property, owners can add more buildings as they please. 
What you need to buy property

If you're looking to buy a property, there are a few documents you'll need handy. Below is a short list of the paperwork you'll need to submit:
Proof of citizenship
A valid residence permit
Your contract or a draft of it
A current excerpt from the property's current land registry
Purpose of use for the property
For legal persons or associations, you'll likely need to submit additional files.
Average housing prices in Austria

A new home in Austria is currently sitting around €359,000. Depending on the Austrian state to which you're thinking of moving, the average price will vary. A new-build in Styria might cost around €300,000. In Lower Austria, you're looking at something closer to €338,000. 
How to finance a home purchase in Austria?

Since the Austrian housing market is quite stable, getting a bank loan for your home purchase is usually easy. You should always consider loan offers from several banks to find the best one. Before the bank offers you a loan, it will ask for property photos, the purchase price, and perhaps a draft of the contract. 

Most of the time, banks will ask you to place a down payment on the home, usually around 40% of the purchasing price. If you can prove that you have a permanent work contract and a high salary, you can potentially negotiate the 40% down to 20%. Interest rates on the loan usually range between 1% and 2%. Additional fees may occur once your loan is officially recorded on the land registry. 
Costs associated with owning property in Austria

When you purchase property in Austria, there are typically substantial closing costs – in the ballpark of 10% to 15% of the purchase price. Some of the costs you will have to pay include: 
Purchase price. This is the asking price for a home. Before buying the home, you should compare its price to the current real estate index and similar listings in the area. 
Land registry fee. In order to enter your home into the land registry, you need to pay a fee. Typically, this fee is 1.1% of the purchase price, but it can be up to 2.3%. 
Taxes on the purchase of real estate. Taxes for buying real estate are typically 3.5% of the purchase price. That number applies when working with real estate agents but varies if you buy the home from a family member.
Commission for the real estate agent. The commission for your realtor is usually split between the buyer and the seller. This fee is due when you sign the contract and typically falls between three and four per cent of the property's value. 
Fee for lawyer or notary. The legal fees for buying a home in Austria are 1% to 3% of the purchase price. A 20% value-added tax also applies. 
Monthly costs associated with living in Austria

Additionally, you will have to pay bills monthly for utilities and other recurring charges. Here are a few charges you should expect to pay each month. 
Energy bill. Your energy bill, which typically covers gas and electricity, is due monthly. There are usually several providers in the area, so make sure you've chosen the provider that best fits your needs. If you rent instead of buy, there's a small chance your rent will include your energy bill. 
Water bill. Water consumption is a flat rate collected monthly with your building service charge. 
Telecommunications. In Austria, the telecommunication market is competitive. Typically, you can get internet, cable television, and a landline all from one provider. That combination should save you money and the extra hassle of ordering services through separate providers. 
TV. If you own a device that can receive radio or TV broadcasts, you must register it and pay the Austrian Broadcasting Company a licensing fee. That's true even if you never use the device.
Renting property in Austria 

You may want to rent a home in Austria before buying. When it comes to renting in Austria, there are a few things you should know before starting your hunt. Read on to learn the average rent in Austria and all the requirements and fees involved. 
Average rent in Austria

The average rent in Austria varies depending on where you want to live. The below graph gives you a rough estimate of what to expect. 

Additionally, your rent will vary based on which of the four possible categories your apartment falls under. Each apartment is categorized based on its size, condition, and accessibility. 
Category A: These apartments are typically at least 30 square meters, and include a kitchenette, oven, hallway, and up-to-date bathroom. Washing machines, dishwashers, and fridges are optional, although they'll often be part of your rental contract. Additionally, there will be a common heating system included. 
Category B: A category B apartment includes some of the same main features as a Category A such as a bedroom, kitchenette, hallway, and a small up-to-date bathroom. 
Category C: These apartments are in usable condition and include a water supply and toilet. 
Category D: There is neither an indoor water supply nor a toilet. 
If any appliance in your contract breaks due to age or malfunction, the property owner must replace or repair the appliance. However, if you broke something, you must replace it – and it will remain in the apartment after you move out. Many renters choose to opt into household insurance and a renters' association in case any issues arise. 
Fees for renting in Austria

Your rent will comprise three parts – your base rent, operating costs, and any taxes that need to be paid.
Base rent. Your base rent is your fixed monthly payment on your apartment. In some regions, the government controls it, and in others, it reflects market conditions.
Operating costs. Operating costs include your water, waste, and sewage expenses along with your building insurance and improvements. There may be separate costs for elevator maintenance as well.
Regulated rent prices

In Austria, government bodies can control the rent prices. Additionally, landlords can add a location surcharge to your rent. This surcharge will amount to 0.33 per cent per square meter. However, it's only applicable if your property is in certain regions of the country. 

The Austrian Supreme Court has held that, when determining whether a surcharge applies, units in high-density areas can only be compared to others in high-density areas. The same goes for units in medium-density and low-density areas. Your rental unit's access to public transportation and cultural sites may also influence whether you must pay a surcharge. 
Requirements for renting

To rent a home in Austria, you just have to sign a lease and provide proof of identity. On some occasions, you may also be asked to show proof of employment, your visa, and references from prior landlords. 
Social housing in Austria 
Austria offers social housing throughout the country for those eligible to qualify for housing subsidies. Access to affordable social housing in the country is substantial, with about one-fourth of residents living in social housing. Most of the requirements (and how you apply) depend on your city, but generally, if you meet the below criteria, you should be eligible. 
At least 17 years of age. 
Must be a citizen of Austria, EU, EEA, or Switzerland, or a permanent resident of the EU. 
Yearly earnings no greater than the state's annual income limit.
You must have a specific housing need. For example, your current living space could be too small for the number of people living in it. In that case, you might qualify for public housing.
You must have spent a certain amount of time at your residence in Austria before being considered for subsidized housing. This time varies by state.
If you're married or in a partnership, you must apply as joint tenants.
What to do when moving into a new flat in Austria

So you finally made it into your new home in Austria. Now, the big question is, what do I do? Here's a brief rundown of what you should do within your first week of moving into a new home. 
Register your address

When you move, you must register your new address within three days of moving, even if your presence there is short-term. You can register your address as a primary or secondary residence, but if you move, you must de-register and complete the process again.

To register your address, you can go to your town hall or the city's municipal administration. You also can register via mail, or someone can file your application on your behalf. The registration form is available at any registration office. 

When you register, you'll need a couple of forms. First, you'll need to bring in the completed registration form with your landlord's signature. You'll also need another form that clearly states your new street address. You can use a purchase or rental contract for this purpose. You'll also need to verify your identity with a passport and birth certificate (or both).
 

Sign up for heat, electricity, internet, phone, and TV

Before choosing the first option you see, take some time to compare your options. See what each company offers you and how much you'd be paying every month before committing to one service. 
 

Set up regular checks 

Annual checks provide a safety net for your home and belongings. An annual reading of your electric meter, for example, could potentially earn you money back if your meter is tracking excess use. 

Additionally, an annual boiler inspection and a chimney sweep will be necessary. The boiler inspection will cost €130 to €250 EUR, but you'll be fined for neglecting to have your boiler inspected. Chimney sweeps are the property owner's responsibility to schedule four times per year. All you need to do is make sure your flat is accessible when the inspector arrives. 
Learn more about Austria

Whether you're bringing your family to Austria as you start a new career or just for a fresh start, there's plenty to learn about your new home! Explore our resources to learn more about life in Austria and your future here.
Back to main navigation