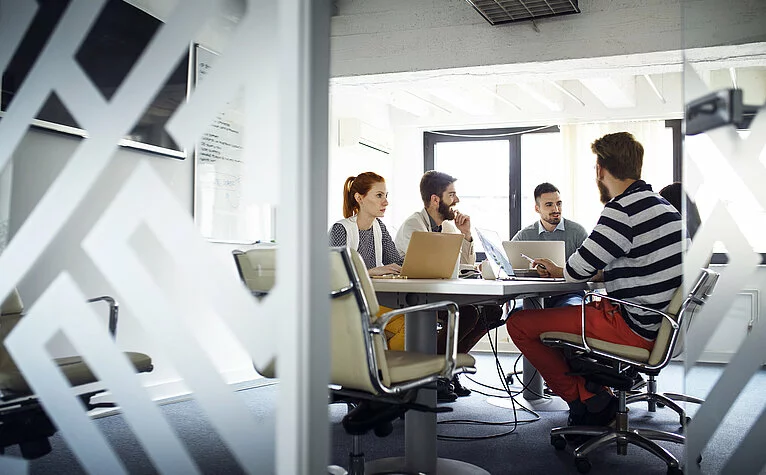 Moving to Austria
How to find a job
Working in Austria
Living in Austria
Business Etiquette in Austria: 10 Important Rules of Conduct
Did you recently begin working in Austria or have to frequently deal with companies in the Alpine Republic? At the same time, you certainly want to do everything right when it comes to the basic rules of conduct. Find out more about the topic of business etiquette in Austria and how you can avoid committing the biggest blunders.
1. The correct way to greet someone 

The first impression counts in one's job, and naturally this begins with greeting people. In your business contacts, introduce yourself with your last name or with your first and last name. Both are possible, accompanied by a friendly but not overly firm handshake. But be careful: if you shake someone's hand and only mention your first name, and the language used is German, you are automatically offering your counterpart the German "du", which is the informal word for you (the formal term for you is "Sie"). However, you should be hold back from using this informal way of greeting in a business environment.
2. When you should address someone formally or informally 

Even if people in Austria are friendly and open-minded, you should address your counterpart formally at the first time of contact, especially when dealing with supervisors and business partners. However, in many companies the more informal way of speaking to colleagues at work is common practice. In this case simply offer use of the informal word "du" promptly and in a friendly manner. For this purpose, both people introduce themselves with their first names. When this happens, you should consistently address this person informally and with his or her first name.
3. Correct use of academic degrees and titles 

Academic degrees and titles are actively used in Austria. As a result, one finds them in e-mail signatures or on business cards. For this reason, you should pay attention to the correct form of address and use of these titles, regardless of whether you meet someone personally or write an e-mail. If you want to play it safe, you can find all the necessary information on the topic of academic titles, awards and their right use on the cross-government online platform for Austria.
4. Punctuality 

One of the most important rules of business etiquette in Austria relates to the topic of punctuality. Strictly keep to the agreed upon time for a meeting. If you know you will be coming late, let the other participants know beforehand. An unexcused late arrival of even a few minutes can be viewed as impolite behaviour.
5. Agree to compromises 

The typical Austrian solution is frequently finding a middle way which is designed to satisfy both sides. Do not insist too much that your point of view is the right one. Be prepared to show goodwill and make some concessions. Otherwise, it might be difficult to find common ground at all.
6. Find a balance between work and social contacts 
Austrians are said to show a single-minded cosiness when working. They carry out their assigned tasks professionally, in a timely manner and according to specifications. But there is always time to have a cup of coffee with one's colleagues. By all means take part in the coffee break together with your colleagues, but do not overdo it with socialising. It does not make a good impression if you continuously stand in the staff kitchen with other employees during normal working hours.
7. The right outfit for work 

Smart jeans are suitable for office work in Austria, but jeans are not always welcome in jobs involving contact to customers. In case of doubt, cloth trousers with a shirt and sports jacket or a bouse and blazer are a good choice. A suit, woman's suit or dress are generally recommended for evening appointments. Look stylish and dress elegantly in accordance with the particular work you do. In this case, orient your clothing to the garments worn by your colleagues. You can also make a good impression concerning your style of clothing at a personal job interview.
8. Small talk in Austria 

The people in Austria are communicative. However, in order not to lose any of your appeal to others, you should choose harmless topics to ensure successful small talk, for example:
Skiing and hiking
Austrian food
Scenery and culture
Sights
Even if you want to only ask in a friendly manner because it personally interests you, the Religion and Politics are not suitable for small talk in Austria.
9. Dealing with business partners 

The customer is king, or at least this is how business etiquette sees it in Austria. The manner of interacting is generally polite but can easily become somewhat more easy-going in the case of a good and longstanding business relationship. In any case, you should take a sufficient amount of time for appointments with customers.
10. Behaviour at business meals 

Punctuality and table manners are naturally taken for granted. In addition to this, you can already achieve a lot if you pay attention to the way you dress and how to engage in small talk. Customers are invited for a meal depending on the context and situation.
Back to main navigation