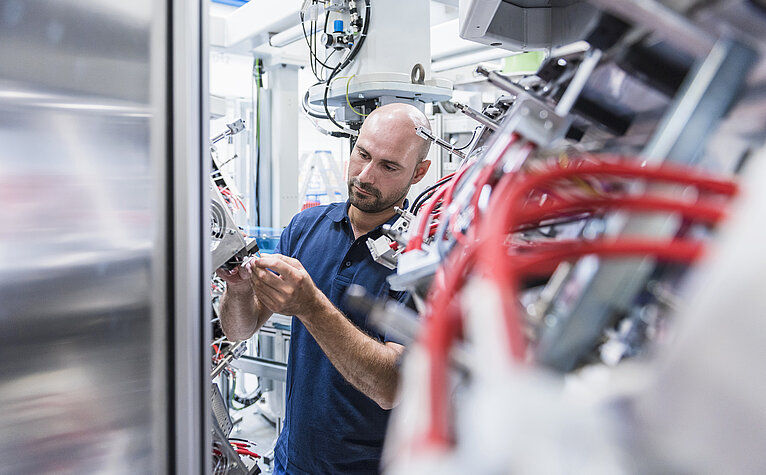 Austrian Companies: Guide & Career Opportunities
This guide answers all your questions about Austrian companies and how you can forge a meaningful career here.
If you're thinking of moving to Austria to jumpstart a new career, you might be wondering, What are the main Austrian industries? Which companies are from Austria? What is the biggest Austrian company? This guide answers all your questions about Austrian companies and how you can forge a meaningful career here.
Which companies are from Austria? 

Have you ever wondered what products are made in Austria? Well, some of your favourite brands might be from there. Listed below are some of the most well-known Austrian companies. 
Red Bull. One of the world's most popular energy drinks, Red Bull is headquartered in the Austrian municipality Fuschl am See. 
Swarovski. The world-renowned jewellery and home accessories company Swarovski is headquartered in the market town of Wattens. 
SPAR Gourmet. Austria is home to a distinct branch of the popular Dutch food retail brand SPAR. This branch operates roughly 50 SPAR Gourmet supermarkets exclusive to the Vienna area. 
Novomatic. This prominent gambling company, headquartered in the town of Gumpoldskirchen, sells slot machines, electronic table games, and plenty more. 
Raiffeisen Bank International. Raiffeisen is a well-known banking group and central institution located in Vienna. 
What is the biggest Austrian company? 

In 2021, The OMV Group was the largest Austrian company by revenue. In 2020, the oil, gas, and petrochemical company brought in more than €16.55 billion. The OMV Group is based in Vienna and employed more than 25,000 people in 2020. 

There are two business segments to The OMV Group: upstream and downstream. The upstream segment produces gas in five regions. These are Central and Eastern Europe, Asia-Pacific. the Middle East and Africa, Russia, and the North Sea. The downstream segment operates in three areas: Austria, Germany, and Romania. 
Austrian company types by size 

In Austria, most employers are in the small business sector, typically only employing zero (self employed) to nine people. Conversely, large business in Austria comprises less than 1% of the country's employer base. Below is a list of Austrian company sizes, based on the number of employees, and how many Austrian companies fall into each category.

Austrian companies by size (number of employees):
Micro-businesses (0-9 employees): 94,2%
Small businesses (10-49 employees): 4,7%
Medium businesses (50-249 employees): 0,9%
Large businesses (250+ employees): 0,2%
Source: WKO, December 2020
Business landscape: What are the main Austrian industries? 

Some of the most important industries and sectors in Austria include mechanical engineering, food and drink, chemical, automotive, electronics, paper, and banking. Each Austrian region is known for a specific type of industry.
Upper Austria: chemical and mechanical engineering, iron, steel 
Lower Austria: manufacturing, mining, public administration, healthcare
Salzburg: paper, wholesale, and electrics
Vorarlberg: clothing and textiles
Carinthia: wood and paper
Styria:  automobiles, manufacturing, iron
Tyrol: glass and wood
Vienna: financial services and insurance
Burgenland: food and beverage, electronics (though known to be lacking in industry compared to other regions)
Founder demographics in Austria

The demographics of Austrians who start businesses can be best assessed along four category lines: legal form, age, gender, and sector. Here's what each of these mean. 
Legal form

In Austria, sole proprietors comprise nearly 85% of business owners. Conversely, only 0,5% of businesses are associations, foundations, AGs, or another type of non-partnership, non-LLC business. The breakdown is as follows:
Sole proprietors: 84,6%
Limited liability companies (GmbH): 11,6%
Partnership entities (OGs): 1,8%
Partnership entities (KGs): 1,5%
Other: 0,5%
Source: WKO Unternehmensneugründungen 2020 nach Rechtsformen
Age   

The majority of company founders in Austria are between the ages of 25 and 39 years old. That figure changes slightly for self-employed people, a group that mostly comprises people ages 30 to 40. Across the entire Austrian business-owning population, the age breakdown is as follows:
Under 20: 2,2%
20 to 30: 26,8%
30 to 40: 28,5%
40 to 50: 21,1%
50 to 60: 15,8%
Over 60: 5,6%
Source: WKO Unternehmensneugründungen 2020
Gender

An Austrian Startup Monitor survey found that 35% of sole proprietorship founding teams are mixed-gender. 4% are women-only, and a sole woman leads 5% of these teams. Overall, among the 32,694 sole proprietorships launched in 2020, women helmed 54,4% and men helmed the remaining 45,6% . The 54,4% of women sole proprietorship founders in 2020 is a substantial jump from 26,7% in 1993. 
Sectors

The trade and crafts sector accounted for 47,2% of new companies in 2020. The banking and insurance sector represented the smallest proportion of growth, with 0,2%. 

A concurrent Austrian Startup Monitor survey found that business owners viewed IT and software development as the most important industries. The survey also found that small business owners place increasing value on the creative industries, life sciences, consumer science, and education sectors. 

The overall breakdown of new companies by sector in 2020 is as follows:

Company founding by sector
Trade and crafts: 47,2%
Retail: 25,8%
Information technology and consulting: 16,7%
Tourism and leisure: 5,9%
Transportation: 4,1%
Banking and insurance 0,2%
Source: WKO Unternehmensneugründungen 2020 nach Sparten
Learn more about Austria 

Whether you're moving for a career or coming to Austria for a change in lifestyle, there's plenty to learn before you make your move! Explore our resources to learn about everything from housing, politics, and life in your future home. 
Back to main navigation